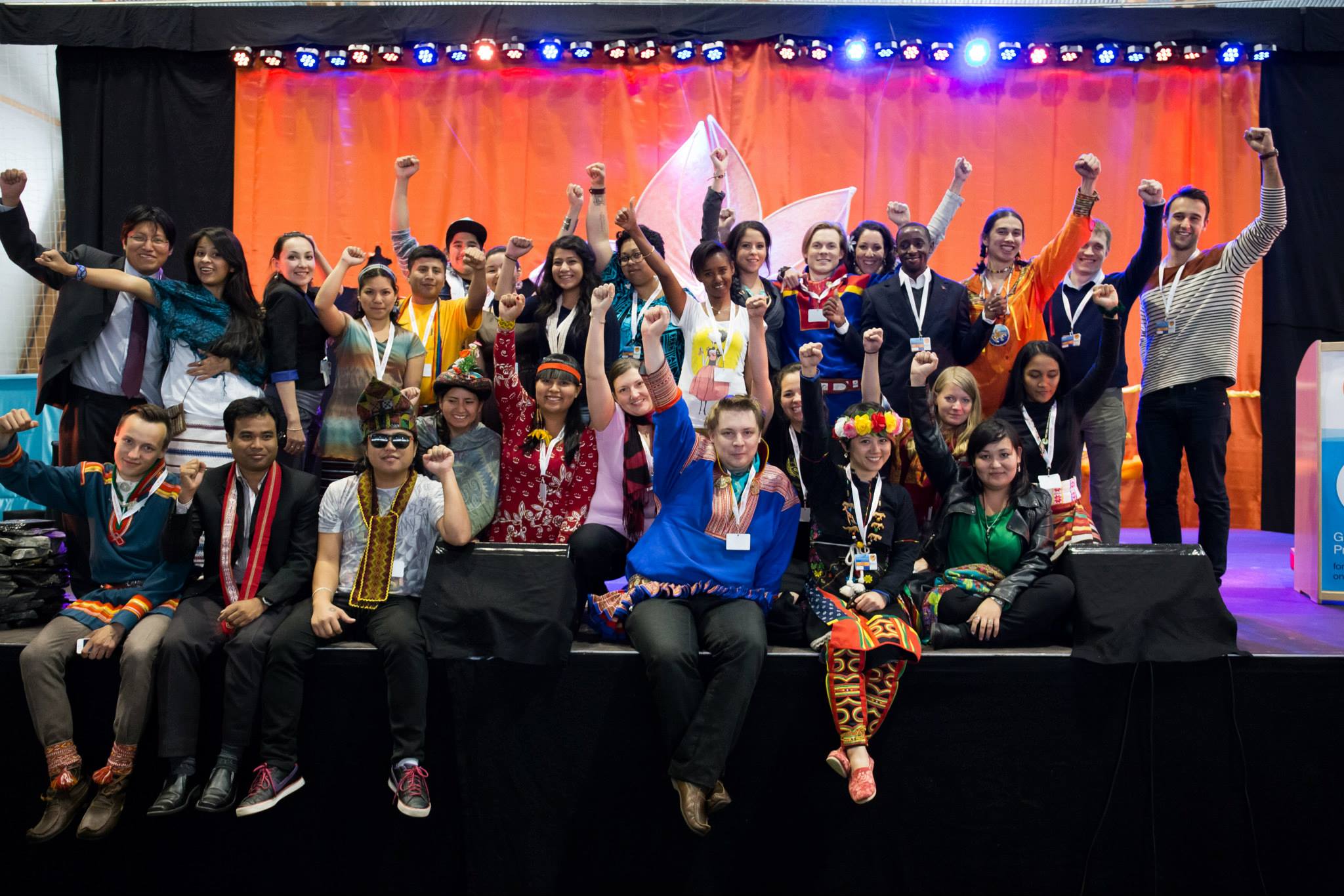 UNGIYC Indigenous Youth Regional and
National Affiliate Organizations:
UNGIYC members and constituents are the international, national, regional, and local level Indigenous Peoples organizations, collectives, and youth leaders. Indigenous youth represent themselves as well as the Indigenous  peoples to whom they belong when they become members of the GIYC. Membership of GIYC is not limited to the attendance of meetings at the UN Permanent Forum on Indigenous Issues, but is an open space for Indigenous youth and Indigenous youth organizations to engage with the GIYC in relation to the promotion and protection of Indigenous Peoples rights.
Central and South America and the Caribbean
Central America
Red de Jovenes Indigenas de America Latina y el Caribe
Comisión de Juventud y niñez de Mujeres Indígenas por Ciarena (Mexico)
Colectivo Kee na'an (Mexico)
Colectivo de jóvenes Paso a Paso (Mexico)
Colectivo, Bibani Baadu´ (Mexico)
Colectivo Yani Tundavii Dikuintií (Mexico)

Casa de la Mujer Acatepec (Mexico)

Congreso General Embera de Alto Bayano (Panama)

Asociacion de Mujeres Ixq'aniil (Guatemala)

Mujeres Indigenas del Wanki Tngni (Nicaragua)

Centro para la Autonomía y Desarollo de los Pueblos Indígenas – CADPI (Nicaragua)
South America
Red de Juventud Indigena de Brasil (Brasil)

Comission Nacional de la Juventud Indigena de Brasil (Brasil)

Consejo de la juventud Terena (Brasil)

Coordinacion de las organizaciones indigenas de Brasil (Brasil)
Associacion de los Academicos Indigenas de Brasilia (Brasil)

Comission Nacional de los Estudiantes Indigenas de Brasil (Brasil)

Rede de Juventud Potiguara (Brasil)

Cordinacion de la Articulacion de los Puelos indigenas do Maranhao – COAPIMA (Brasil)

Codinacion de la Juventud Indigena de Pernambuco – COJIPE (Brasil)

Juventud Kaigang (Brasil)
Articulacion de los Pueblos Indigenas del Sur (Brasil)

Consejo indigena Tapajos y Arapiuns (Brasil)

Comunicadores indigenas Tikuna (Brasil)
Associacion de los jovenes indigenas de Dourados (Brasil)

Associacion Tierra Indigena de Xingu (Brasil)

Instituto Raoni – Movimento de Juventude Mebengokre (Brasil)

Consejo de la Nacion Charua – CONACHA (Uruguay)

Articulacion de los pueblos y organizaciones indigenas do nordeste y minas gerais (Brasil)

Centro de Estudios Multidiciiplinarios-Aymara – CEM-Aymara (Bolivia)

Red de Juventud Indigenas de Peru (Peru)
Enlace Continetal de Mujeres Indigenas (Colombia)

Organizacion Nacional Indigena de Colombia (Colombia)
Caribbean
Consenjo Indigena de Centro America (El Salvador)

Comunidad Guyana inglesa (Guayana inglesa)

Organisatie van Inheemse Volken- Surinan (Surinan)
North America
United States
7th Generation Fund (Canada & United States)

The Native Youth Sexual Health Network (United States)

International Indian Treaty Council (United States)

Shinnecock Youth Council (United States)
American Indian Law Alliance (United States)
The Leadership Institute's Policy Academy (United States)
Nakoda Youth Council (United States)
Canada
American Indian Community House (Canada)
St'át'imc Chiefs Council (Canada)
Nisga'a Lisims Government & Canada World Youth (Canada)
Lac La Ronge Indian Band (Canada)
Canada World Youth and Canadian Roots Exchange (Canada)
Eastern Europe, Russian Federation, Central Asia and Transcaucasia
Revival of Kazas and the Shor people, Kemerovskaya oblast (Russia)

Sakha itik sirdere (Russia)

Oymyakon- Pole of cold (Russia)
Crimean Tartar Youth Center (Ukraine)
Pacific
National Congress of Australia's First Peoples (Australia)

Ka Lahui Hawai'I (USA, Hawaii)

Youth 4 Change (Pohnpei, Federated States of Micronesia)
He Kuaka Mārangaranga (New Zealand)
Arctic
Suoma Sámi Nuorat (Finland)
Noereh (Norway)
Sáminuorra (Sweden)
Sami Nurash (Russia)
ILI ILI – Student Organisation of (Greenland)
Inuit Circumpolar Council (Greenland)
SORLAK – National moderator of children and youth organization (Greenland)
West to East: Inuvialuit Regional Corporation (Canada)
Kitikmeot Inuit Association (Canada)
Kivalliq Inuit Association (Canada)
Qikitani Inuit Association (Canada)
Qarjuit Youth Council (Canada)
Nunatsiavut Government (Canada)
Inuit Circumpolar Council (Canada)
Qikitagruk Inupiaq Youth Council (Alaska)
Inuit Circumpolar Council (Alaska)
Inuit Circumpolar Council – Chukotka (Russia)
Asia
Community Service Forum (Nepal)
Youth Federation of Indigenous Nationalities (Nepal)
Chin Human Rights Organization (Myanmar)
Asia Young Indigenous Peoples
Network (AYIPN), (formerly Asia
Pacific Indigenous Youth Network,
APIYN) (National)
Africa
Botswana Khwedom Council (Botswana)
Association pour l'Integration et le Developpement Durable au Burundi (Burundi)
Endorois Welfare Council
Ogaden Youth and Student Union
(Ethiopia)