Up to three Co-Chairs are selected each year at the UNPFII for a one-year mandate. The roles of the Co-Chairs are to facilitate discussions between the seven regions and to be a point of contact when engaging with external agencies and bodies.
Makanalani Gomes
Makanalani Gomes
makanag4@gmail.com
Alexis Monzano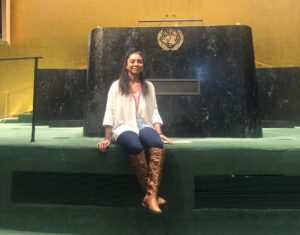 Alexia Monzano
alexis.giyc@unmgcy.org
Mai Thin Yu Mon
Mai Thin Yu Mon
mai.giyc@unmgcy.org
Each of the seven regions appoints up to three focal points per region each year at the UNPFII for a one-year mandate. The roles of the focal points are to facilitate discussion and consensus within each region and to be a point of contact for the region.
Arctic:
Ruth Kaviok
Karin Nutti Pilflykt
Ole-Henrik Bjørling Mifjell
Central & South America, and the Caribbean:
Rayanne Cistine M .Franca
Jorge Angel Perez
Asia:
Aisah Czarriane Mariano
Mai Thin Yu Mon
Anish Shrestha
Pacific:
Ivan Ingram
Sylvia Elias
Ngaa Rauuira Puumanawawhiti
Africa:
Juweyria Ali
Amy Andrews
Winnie Kodi
Central and Eastern Europe, Russian Federation, Central Asia and Transcaucasia:
Sargylana Atlasova
Amy Andrews, one of the Africa Focal Points, From Mamre (Khoisan) Indigenous peoples, North of Cape Town, South Africa. She hopes and aspires to be a change maker in her community.
Ngaa Rauuira Puumanawahiti, one of the Pacific Focal Points, was born in Ōtaki (New Zealand) and is a product of the Māori total immersion education pathway. He is a former graduate and lecturer of the Mātauranga Māori (Māori Studies) program delivered at Te Wānanga-o-Raukawa (Māori University), specializing in Treaty Education. He now lives in Kirikiriroa (Hamilton) where he provides policy and strategy advice for the Rights & Interests Unit of the Tribal Office of Waikato-Tainui.
Aisah Mariano, one of the Asia Focal Points, and a Kankana-ey Indigenous youth from the Cordillera, Philippines. She is currently the Network Administrator for the Asia Young Indigenous Peoples Network (APIYN), which serves as a regional network for all indigenous youth organizations and group in Asia.
Shanese Steele, one of the North American Focal Points, is a 25-year-old Afro-Indigenous woman of Trinidadian descent and is a member of the Red Sky Independent Métis Nation in Canada.
Victor Lopez-Carmen, one of the Focal Points for North America. He is a member of the Crow Creek Sioux Tribe in South Dakota and is also Yaqui from Arizona. Currently, he is a member of the International Indian Treaty Council and is studying medicine so he can help his people.